American Association of Endodontists Honors Contributors to the Specialty
The following AAE members were honored by the Association for their commitment to advancing endodontics and the specialty. In partnership with Dentsply Sirona, the AAE developed videos highlighting the accomplishments of the award recipients. Videos can be viewed on the AAE's YouTube channel. Pictured with the award winners are 2015-2016 Honors and Awards Committee Chair Dr. Gerald N. Glickman (left) and 2015-2016 President Dr. Terryl A. Propper (right).
Mahmoud Torabinejad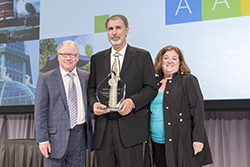 , D.M.D., M.S.D., Ph.D., received the AAE's highest honor, the Edgar D. Coolidge Award, given for leadership and exemplary dedication to dentistry and endodontics. Dr. Torabinejad completed his endodontic training at the University of Washington School of Dentistry and began his educational career as an endodontic instructor at the school. After teaching and conducting research at Harvard School of Dental Medicine for two years, Dr. Torabinejad joined the faculty at Loma Linda University School of Dentistry. He has served as the director of Loma Linda's advanced specialty education program in endodontics since 1989, and also maintains a private practice in Upland, Calif.
Dr. Torabinejad's pioneering research has led to some of the most important advancements in endodontics. Most notably, he researched and developed mineral trioxide aggregate, which revolutionized endodontic surgery and has been instrumental in saving patients' natural dentitions. He has published four textbooks, numerous textbook chapters and more than 300 publications - including 16 of the 100 most-cited endodontic articles.
As president of the AAE Foundation in 1995, his vision and determination transformed the organization, resulting in a significant increase in funds raised to support endodontic research and education. In addition, Dr. Torabinejad has served the specialty as president of the AAE, the California State Association of Endodontists and the Southern California Academy of Endodontists.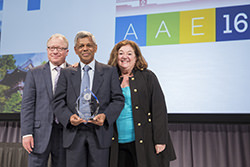 P.N. Ramachandran Nair, B.V.Sc., D.V.M., Ph.D., was honored with the Ralph F. Sommer Award, given to the principal author of a publication of specific significance to the science and art of endodontology. Dr. Nair is an accomplished endodontic researcher with more than 100 publications to his name, including research papers, review articles, abstracts and book chapters. But it his 1990 paper in the Journal of Endodontics - "Intraradicular bacteria and fungi in root-filled, asymptomatic human teeth with therapy-resistant periapical lesions: A long-term light and electron microscopic follow-up study" - that truly stands out.
The paper, of which Dr. Nair is the principal author, was the first to provide a biological explanation for the persistence of apical periodontitis after endodontic treatment, setting a new standard for the investigation of persistent bacteria in root-filled canals and highlighting the immense challenge that endodontists face in eliminating this bacteria. A vital resource on root canal infection, the paper was identified in 2011 as the 14th most-cited publication in endodontology.
Dr. Nair is a founding member of the Swiss Society for Endodontology, and recently retired from his role as senior scientist for the Institute of Oral Biology at the University of Zurich. He continues to teach and present lectures and seminars all over the world.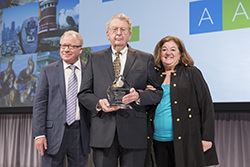 Daniel B. Green, D.D.S., was honored with the I.B. Bender Lifetime Educator Award, presented to a full-time educator with at least 15 years of experience whose contributions to endodontics have demonstrated excellence through selfless commitment to full-time educational pursuits and have instilled in his students a desire to pursue excellence in their careers. For more than 45 years, Dr. Green has been a respected educator and role model for future endodontists. After completing his endodontic training at Albert Einstein Medical Center, under the guidance of Dr. I.B. Bender himself, Dr. Green began his education career as an assistant professor at Temple School of Dentistry. He held academic appointments at the Medical College of Virginia and University of Louisville School of Dentistry before coming to Tufts University School of Dental Medicine in 1996. As the former Winkler Professor and chairman of the department of endodontics at Tufts, Dr. Green is known for his ability to inspire critical thinking, his passion for the specialty and his sincere concern for students.
Dr. Green served as the executive director of the American Association for Dental Research and International Association for Dental Research in the late 1970s and his impressive research accomplishments include more than 40 published papers and a dozen research grants.
Natasha M. Flake, D.D.S., Ph.D., M.S.D., received the Edward M. Osetek Educator Award, given to a full-time educator with less than 10 years of teaching experience, who has earned the esteem and respect of students and faculty associates. Dr. Flake received the AAE Foundation's Endodontic Educator Fellowship while earning her D.D.S. and Ph.D. in neuroscience at the University of Maryland. She completed her endodontic training at the University of Washington School of Dentistry in 2007 and joined the school's faculty as an assistant professor the same year. Since then, she also has taken on the roles of director of predoctoral endodontics, director of the endodontic clerkship and chair of the Clerkship Committee. In 2014, she received the Bruce R. Rothwell Distinguished Teaching Award, the University of Washington's highest teaching honor.
Dr. Flake also has established a reputation as a skilled endodontic researcher. A former chair of the AAE's Research and Scientific Affairs Committee and the Special Committee on Practice Based Research Networks, Dr. Flake has published 15 papers and recently was awarded part of the AAE Foundation's multi-center grant in regenerative endodontics.
George T. Goodis, D.D.S., received the AAE's Part-Time Educator Award, presented to part-time educators whose contributions to endodontics have demonstrated dedication to the specialty and have instilled in students a desire to pursue excellence in their careers. As a part-time faculty member for the past 35 years, Dr. Goodis has made a profound impact on the students at the University of Detroit Mercy School of Dentistry. He teaches at the undergraduate and postgraduate levels while maintaining a private practice in Grosse Pointe Woods, Mich. A trusted source for both clinical and practice management advice, Dr. Goodis has been called the "pied piper of endodontics" due to the numerous students - and one of his former dental assistants - he has inspired to enter the specialty.
In 2009, Dr. Goodis was instrumental in planning "Save-A-Tooth" Day at UDM, enlisting more than 20 Michigan endodontists to perform root canals on underserved patients in the Detroit area. He also brought in local general dentists and laboratories to provide core build-ups and crowns for the endodontically treated teeth. His leadership in organized dentistry is remarkable as well, with past roles as secretary and District IV director of the AAE and president of the College of Diplomates, Michigan Association of Endodontists, Michigan Dental Association and Detroit District Dental Society.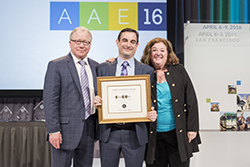 Jeffrey S. Albert, D.M.D., was honored with the Spirit of Service New Practitioner Award, presented to an individual with less than 10 years in practice who has volunteered his time and expertise in treating underserved patients. Dr. Albert has dedicated much of his dental career to helping underserved populations, both in the U.S. and abroad. After earning his dental degree at Nova Southeastern University College of Dental Medicine and practicing as a general dentist, Dr. Albert traveled to three different countries to aid individuals in need of dental treatment. He provided emergency dental care in Cambodia and Vietnam and volunteered in India with an oral maxillofacial surgeon to help restore cleft lip and palate deformities.
In 2007, Dr. Albert began working for the Palm Beach County Health Department, where he co-founded the organization's "Save a Molar" program that provides underprivileged children with free root canal treatment. Dr. Albert's commitment to service continued as he completed his endodontic training at New York University College of Dentistry. As a volunteer with the New York University Dental Outreach Program, he supervised dental students on service trips to Alaska and Maine.
Now back in West Palm Beach, where he is in private practice, Dr. Albert continues to be involved with "Save a Molar" as a participating endodontist. He also developed a root canal program at Caridad Volunteer Dental Clinic in Boynton Beach. Dr. Albert organized the donation of state-of-the-art endodontic equipment to Caridad Clinic so that a better quality of care can be provided to the patients.
Richard A. Rubinstein, D.D.S., M.S., received the prestigious President's Award at AAE16. The award honors exceptional members who work to promote and advance the Association.
A pioneer in the use of the operating microscope in endodontics, Dr. Rubinstein has written and contributed to numerous scientific articles and textbooks on the operating microscope and endodontic microsurgical technique, and he is an internationally renowned speaker on these topics. Currently, he serves as an adjunct clinical associate professor at the University of Michigan School of Dentistry and works in private practice in Farmington Hills, Mich.
In presenting the President's Award to Dr. Rubinstein, President Terryl A. Propper said, "I have been consistently impressed by his clinical expertise, his willingness to challenge the status quo, and his dedication to the AAE, its members and the specialty of endodontics."
###
About the American Association of Endodontists
The American Association of Endodontists, headquartered in Chicago, Ill., represents more than 8,200 members worldwide. Endodontics is one of nine dental specialties formally recognized by the American Dental Association. The AAE, founded in 1943, is dedicated to excellence in the art and science of endodontics and to the highest standard of patient care. The Association inspires its members to pursue professional advancement and personal fulfillment through education, research, advocacy, leadership, communication and service.
For high resolution images, please contact Jennifer Gibson, public relations manager, at jgibson@aae.org.